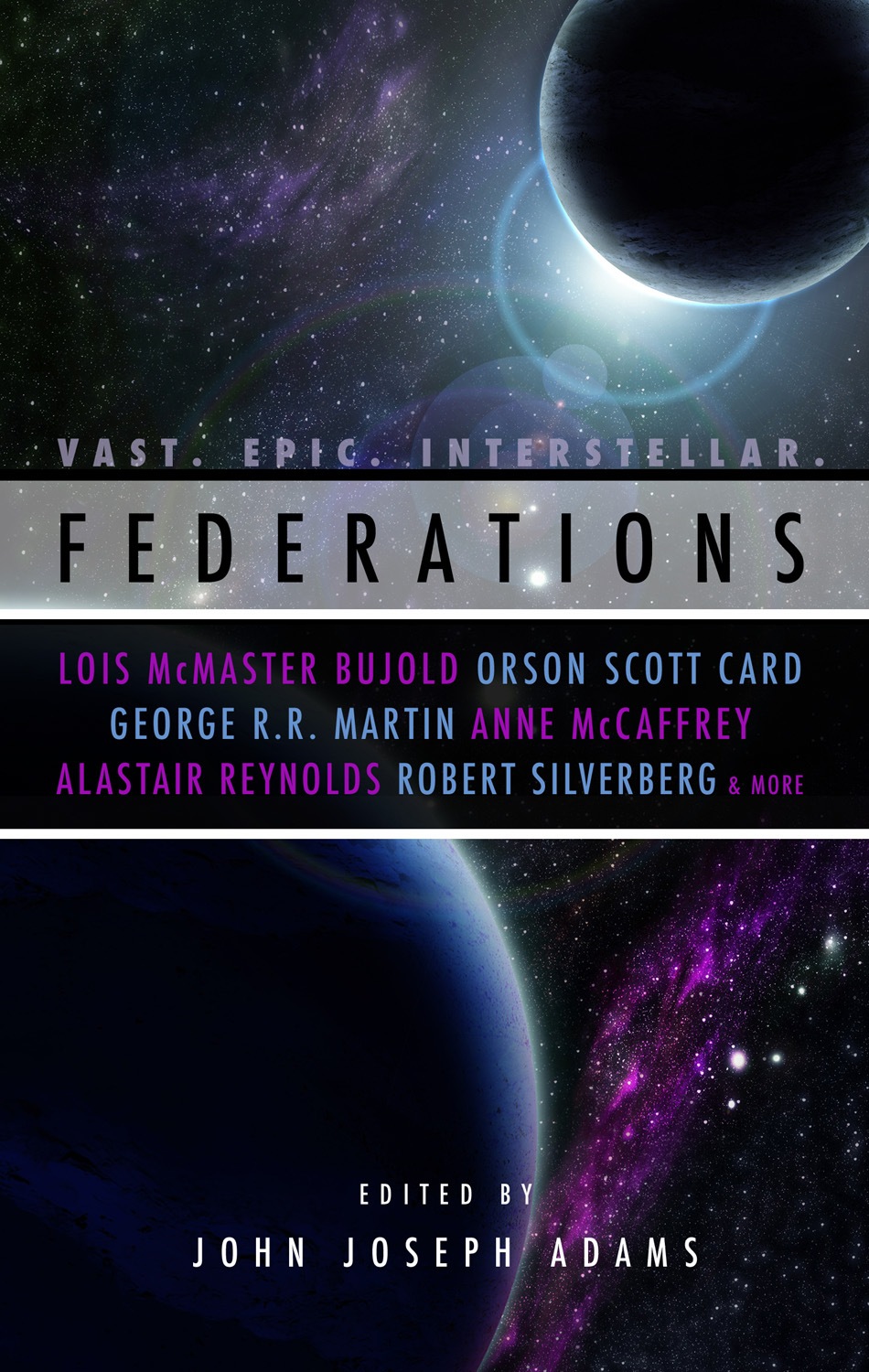 From Star Trek to Star Wars, from Dune to Foundation, science fiction has a rich history of exploring the idea of vast interstellar societies, and the challenges facing those living in or trying to manage such societies. The stories in Federations continue that tradition.
What are the social/religious/environmental/technological implications of living in such a vast society? What happens when expansionist tendencies on a galactic scale come into conflict with the indigenous peoples of other planets, of other races? And what of the issue of communicating across such distances, or the problems caused by relativistic travel? These are just some of the questions and issues that the stories in Federations take on.
Herein you will find a mix of all-new, original fiction, alongside selected reprints from authors whose work exemplifies what interstellar SF is capable of.
Table of Contents
Mazer in Prison | Orson Scott Card (reprint)
Carthago Delenda Est | Genevieve Valentine
Life-Suspension | L. E. Modesitt, Jr.
Terra-Exulta | S. L. Gilbow
Aftermaths | Lois McMaster Bujold (reprint)
Someone is Stealing the Great Throne Rooms of the Galaxy | Harry Turtledove (reprint)
Prisons | Kevin J. Anderson and Doug Beason (reprint)
Different Day | K. Tempest Bradford
Twilight of the Gods | John C. Wright
Warship | George R. R. Martin and George Guthridge (reprint)
Swanwatch | Yoon Ha Lee
Spirey and the Queen | Alastair Reynolds (reprint)
Pardon Our Conquest | Alan Dean Foster
Symbiont | Robert Silverberg (reprint)
The Ship Who Returned | Anne McCaffrey (reprint)
My She | Mary Rosenblum
The Shoulders of Giants | Robert J. Sawyer (reprint)
The Culture Archivist | Jeremiah Tolbert
The Other Side of Jordan | Allen Steele
Like They Always Been Free | Georgina Li
Eskhara | Trent Hergenrader
The One with the Interstellar Group Consciousnesses | James Alan Gardner
Golubash, or Wine-War-Blood-Elegy | Catherynne M. Valente
Federations is scheduled for publication in May 2009. You can pre-order it now from Amazon.com.