Anthology: Seeds of Change
by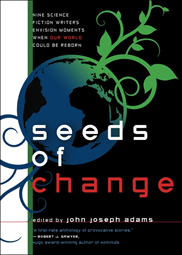 Here's the cover copy and the full table of contents of my forthcoming original SF anthology for Prime Books, Seeds of Change.
Imagine the moment when the present ends, and the future begins–when the world we knew is no more and a brave new world is thrust upon us. Gathering stories by nine of today's most incisive minds, Seeds of Change confronts the pivotal issues facing our society today: racism, global warming, peak oil, technological advancement, and political revolution. Many serve as a call to action. How will you change with the future?

These nine stories sow seeds of change across familiar and foreign territory, from our own backyards to the Niger Delta to worlds not yet discovered. Pepper, the mysterious mercenary from Tobias S. Buckell's Crystal Rain and Ragamuffin, works as an agent for change—if the price is right—in "Resistance." Ken MacLeod envisions the end-game in the Middle East in "A Dance Called Armageddon." New writer Blake Charlton imagines a revolutionary advance in cancer research in "Endosymbiont." Award-winning author Jay Lake tackles technological change and the forces that will stop at nothing to prevent it in "The Future by Degrees." Other stories by K.D. Wentworth, Jeremiah Tolbert, Mark Budz, Ted Kosmatka, and Nnedi Okorafor-Mbachu range from the darkly satirical to the exotic. All explore the notion that change will come.

Will you be ready?
Table of Contents:
Introduction by John Joseph Adams
N-Words by Ted Kosmatka
The Future by Degrees by Jay Lake
Drinking Problem by K. D. Wentworth
Endosymbiont by Blake Charlton
A Dance Called Armageddon by Ken MacLeod
Arties Aren't Stupid by Jeremiah Tolbert
Faceless in Gethsemane by Mark Budz
Spider the Artist by Nnedi Okorafor-Mbachu
Resistance by Tobias S. Buckell
The cover features a very nice blurb provided by Robert J. Sawyer, which says "A first-rate anthology of provocative stories." Which was redacted down from:
"Isaac Asimov said science fiction is the branch of literature that deals with the responses of human beings to changes in science and technology. His definition put humans in a reactive role, and essentially had science and technology changing on their own. But we can also be proactive, actively making the future what we want — or what we dread. A first-rate anthology of provocative and disturbing stories gathered by the always reliable John Joseph Adams." — Robert J. Sawyer, Hugo Award-winning author of HOMINIDS
Now available! Visit the website at www.seedsanthology.com.