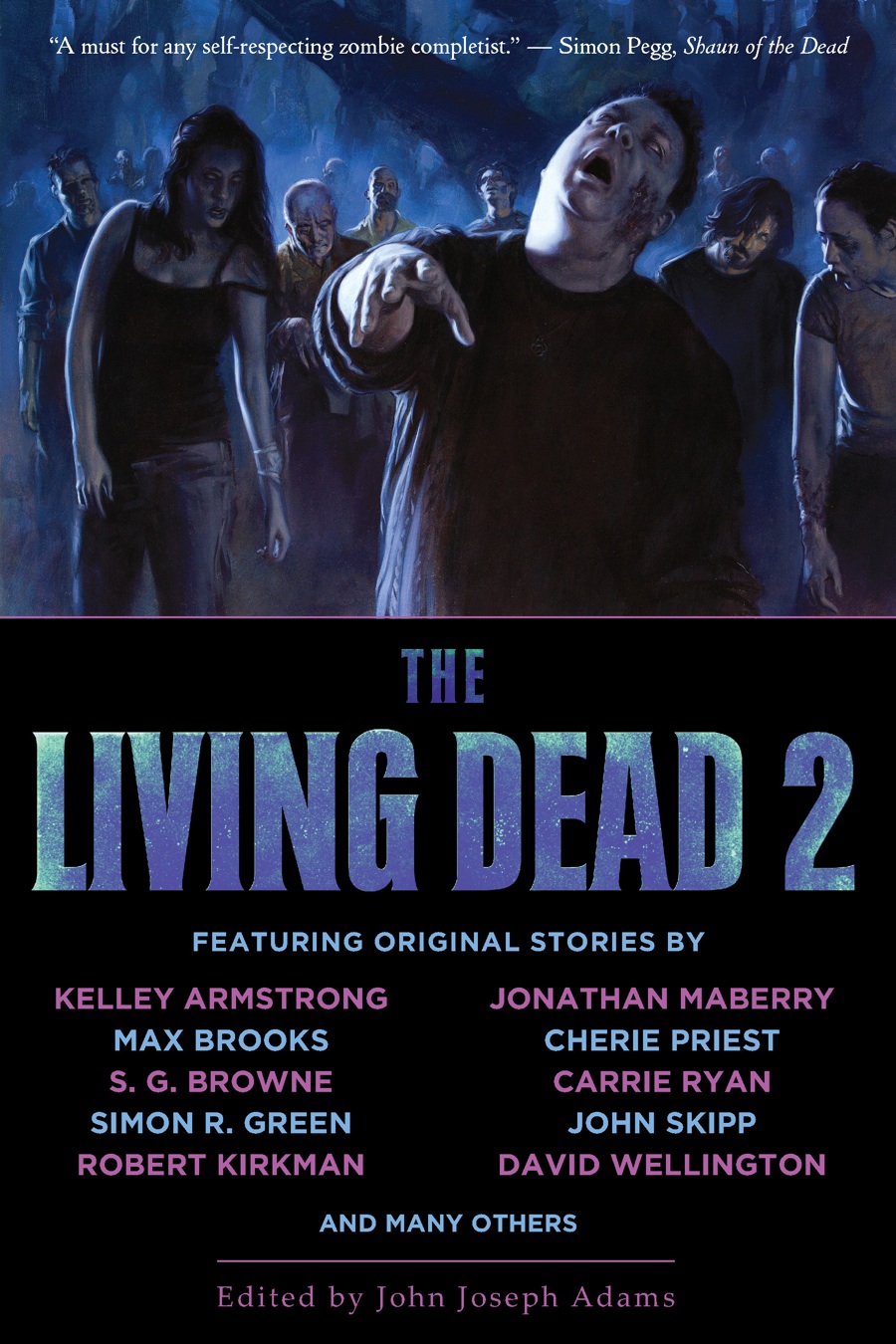 I just turned in the manuscript for The Living Dead 2, the follow-up to my World Fantasy Award-nominated anthology The Living Dead. Here's the cover copy:
Two years ago, readers eagerly devoured The Living Dead. Publishers Weekly named it one of the Best Books of the Year, and Barnes & Noble.com called it "The best collection of zombie fiction ever." Now acclaimed editor John Joseph Adams is back for another bite at the apple — the Adam's apple, that is — with 44 more of the best, most chilling, most thrilling zombie stories anywhere, including virtuoso performances by zombie fiction legends Max Brooks (World War Z, The Zombie Survival Guide), Robert Kirkman (The Walking Dead), and David Wellington (Monster Island).
From Left 4 Dead to Zombieland to Pride and Prejudice and Zombies, ghoulishness has never been more exciting and relevant. Within these pages samurai warriors face off against the legions of hell, necrotic dinosaurs haunt a mysterious lost world, and eerily clever zombies organize their mindless brethren into a terrifying army. You'll even witness nightmare scenarios in which humanity is utterly wiped away beneath a relentless tide of fetid flesh.
The Living Dead 2 has more of what zombie fans hunger for — more scares, more action, more… brains. Experience the indispensable series that defines the very best in zombie literature.
The Living Dead 2 comes out in September is now available!. Meanwhile, here's the table of contents (original stories are in bold text, reprints are in regular text):
Introduction — John Joseph Adams
Alone, Together — Robert Kirkman
Danger Word — Steven Barnes & Tananarive Due
Zombieville — Paula Stiles
The Anteroom — Adam-Troy Castro
When the Zombies Win — Karina Sumner-Smith
Category Five — Marc Paoletti
Living with the Dead — Molly Brown
Twenty-Three Snapshots of San Francisco — Seth Lindberg
The Mexican Bus — Walter Greatshell
The Other Side — Jamie Lackey
Where the Heart Was — David J. Schow
Good People — David Wellington
Lost Canyon of the Dead — Brian Keene
Pirates vs. Zombies — Amelia Beamer
The Crocodiles — Steven Popkes
Steve and Fred — Max Brooks
The Rapeworm — Charlie Finlay
Everglades — Mira Grant
We Now Pause For Station Identification — Gary Braunbeck
Reluctance — Cherie Priest
Arlene Schabowski Of The Undead — Mark McLaughlin & Kyra M. Schon
Zombie Gigolo — S. G. Browne
The Summer Place — Bob Fingerman
The Wrong Grave — Kelly Link
The Human Race — Scott Edelman
Therapeutic Intervention — Rory Harper
He Said, Laughing — Simon R. Green
Last Stand — Kelley Armstrong
The Thought War — Paul McAuley
Dating in Dead World — Joe McKinney
Thin Them Out — Kim Paffenroth, Julia Sevin & RJ Sevin
Zombie Season — Catherine MacLeod
Tameshigiri — Steven Gould
Zero Tolerance — Jonathan Maberry
The Price of a Slice — John Skipp & Cody Goodfellow
Are You Trying to Tell Me This is Heaven? — Sarah Langan
UPDATE: The website for the anthology is now live! It features the introduction, header notes to the stories, and interviews with most of the authors, PLUS 8 FREE STORIES!