Under the Moons of Mars: New Adventures on Barsoom
by
I've just gotten the go ahead to post the cover and cover copy of my forthcoming anthology Under the Moons of Mars:  New Adventures on Barsoom (formerly titled The New Adventures of John Carter of Mars).
Readers of all ages have read and loved Edgar Rice Burroughs' Mars series since the first book, A Princess of Mars, was published in 1912. Fans have marveled at the adventures of John Carter, an Earthman who suddenly finds himself on a strange new world: Mars. Now, in time for the 100th anniversary of that seminal work and the release of a Disney feature film, comes an anthology of original stories featuring John Carter of Mars, in brand new adventures. Collected by veteran anthology editor John Joseph Adams, this anthology features a forward by Tamora Pierce, stories and original art from titans of literature and illustrations such as Peter S. Beagle, Garth Nix, Charles Vess, and many more, plus a glossary of Mars by Richard A. Lupoff.
Note: This book is not licensed or authorized by, or in any way affiliated with, Edgar Rice Burroughs, Inc. or any other entity associated with the Edgar Rice Burroughs estate.
The anthology is to be published by Simon & Schuster for Young Readers in February 2012. It's now available for pre-order.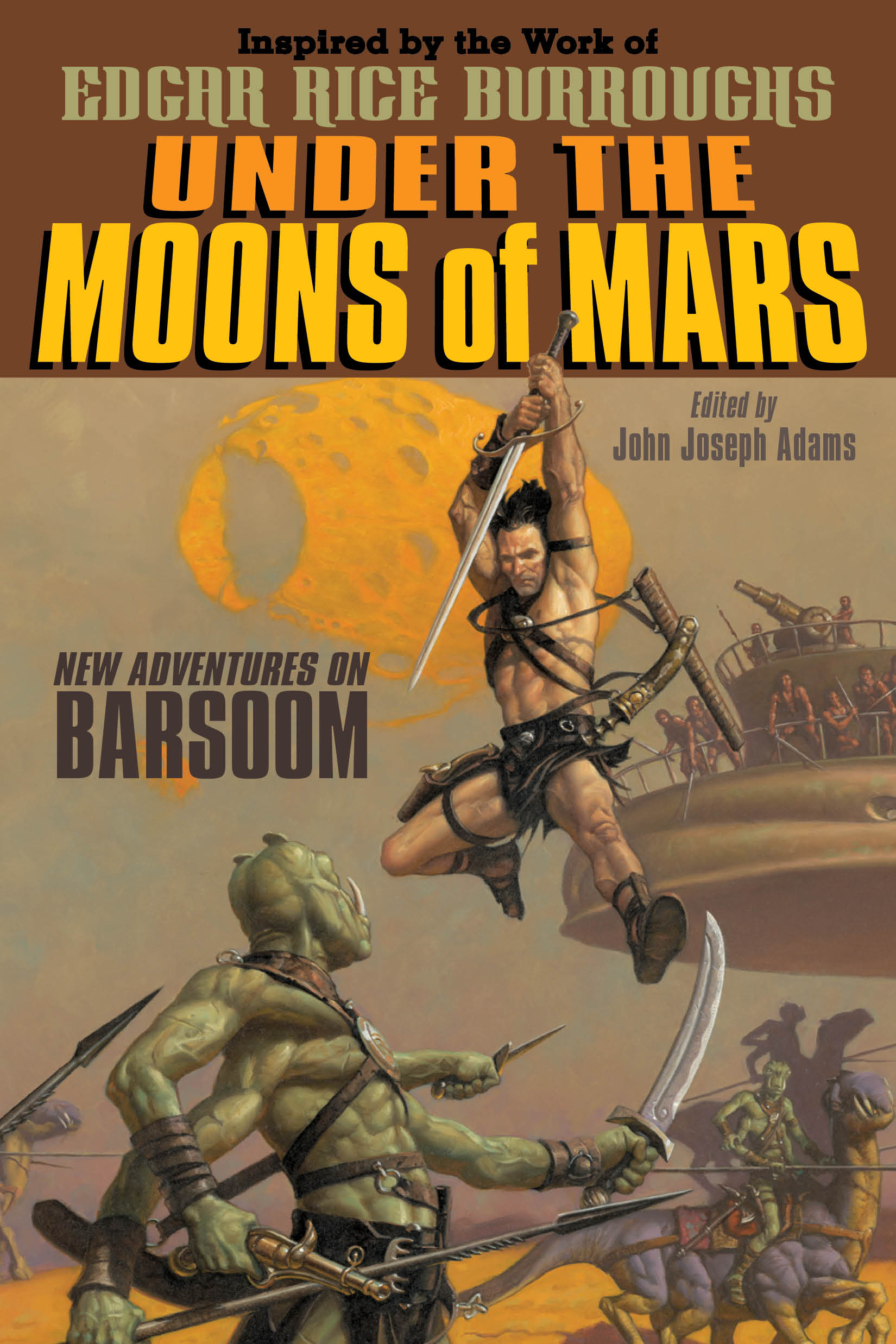 And here's the full table of contents:
Foreword by Tamora Pierce
Introduction by John Joseph Adams
The Metal Men of Mars by Joe R. Lansdale

Illustrated by Gregory Manchess

Three Deaths by David Barr Kirtley

Illustrated by Charles Vess

The Ape-Man of Mars by Peter S. Beagle

Illustrated by Jeremy Bastian

A Tinker of Warhoon by Tobias S. Buckell

Illustrated by Chrissie Zullo

Vengeance of Mars by Robin Wasserman

Illustrated  by Misako Rocks

Woola's Song by Theodora Goss

Illlustrated by Joe Sutphin

The River Gods of Mars by Austin Grossman

Illustrated by Meinert Hansen

The Bronze Man of Mars by L. E. Modesitt, Jr.
A Game of Mars by Genevieve Valentine

Illustrated by Molly Crabapple

Sidekick of Mars by Garth Nix

Illustrated by Mike Cavallaro

The Ghost of the Superstition Mountains by Chris Claremont

Illustrated by John Picacio

The Jasoom Project by S. M. Stirling

Illustrated by Jeff Carlisle

Coming of Age in Barsoom by Catherynne M. Valente

Illustrated by Michael Wm. Kaluta

The Death Song of Dwar Guntha by Jonathan Maberry

Illustrated by Daren Bader

Appendix: A Barsoomian Gazetteer, or, Who's Who and What's What on Mars by Richard A. Lupoff