New Anthology: DEAD MAN'S HAND
by
This one has been under wraps for a while, but I'm happy to announce that I've edited an all-original anthology of "weird west" stories for Titan Books, called Dead Man's Hand. Here's the press release and the (not final) cover: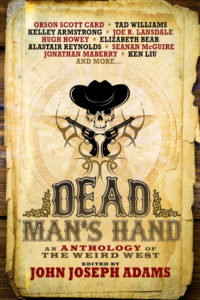 Titan Books announced today that next spring it will publish Dead Man's Hand: An Anthology of the Weird West (May 2014, Trade Paperback), an exclusive "weird western" anthology, edited by John Joseph Adams, that will include stories from many of today's most talented authors, some new to the genre and others well-known to readers.
The twenty-two original works—produced specifically for this volume—will range from a brand new Orson Scott Card tale (his first "Alvin Maker" story in a decade), to an original adventure by Fred Van Lente (creator of Cowboys & Aliens). It will also include stories such as Elizabeth Bear's story of a steampunk bordello, and new writer Rajan Khanna's exploration of sorcery found in a magical deck of playing cards.
"The weird western is the forefather of steampunk, with a history that includes Stephen King's Dark Tower and Card's Alvin Maker," editor John Joseph Adams explains.  "But where steampunk is Victorian, weird westerns are darker, grittier, so the protagonist might be gunned down in a duel, killed by a vampire, or confronted by aliens on the streets of a dusty frontier town."
The phrase "dead man's hand' refers to the poker hand held by Wild Bill Hickok when he was shot and killed by the coward Jack McCall.  "What the hand actually was seems to be open to some debate," Adams continues.  "I suppose the only way we could ever know for sure would be to reanimate his corpse or to travel back in time … both of which are the stuff of the "weird western" tale—stories of the Old West infused with elements of the fantastic."
Here's the full table of contents:
Introduction—John Joseph Adams
The Red-Headed Dead—Joe R. Lansdale
The Old Slow Man and His Gold Gun From Space—Ben H. Winters
Hellfire on the High Frontier—David Farland
The Hell-Bound Stagecoach—Mike Resnick
Stingers and Strangers—Seanan McGuire
Bookkeeper, Narrator, Gunslinger—Charles Yu
Holy Jingle—Alan Dean Foster
The Man With No Heart—Beth Revis
Wrecking Party—Alastair Reynolds
Hell from the East—Hugh Howey
Second Hand—Rajan Khanna
Alvin and the Apple Tree—Orson Scott Card
Madam Damnable's Sewing Circle—Elizabeth Bear
Strong Medicine—Tad Williams
Red Dreams—Jonathan Maberry
Bamboolzed—Kelley Armstrong
Sundown—Tobias S. Buckell
La Madre Del Oro—Jeffrey Ford
What I Assume You Shall Assume—Ken Liu
The Devil's Jack—Laura Anne Gilman
The Golden Age—Walter Jon Williams
Neversleeps—Fred Van Lente
Dead Man's Hand—Christie Yant