NEWS: PRESS START TO PLAY Cover & TOC Reveal
by
Now that Kotaku has made the big reveal for us, I'm free to also share the final cover, (not final) cover copy, and table of contents for PRESS START TO PLAY, a mostly-original anthology of stories about and inspired by video games I edited (with Daniel H. Wilson) for Vintage. It's forthcoming in August 2015, but you can pre-order it now.
COVER: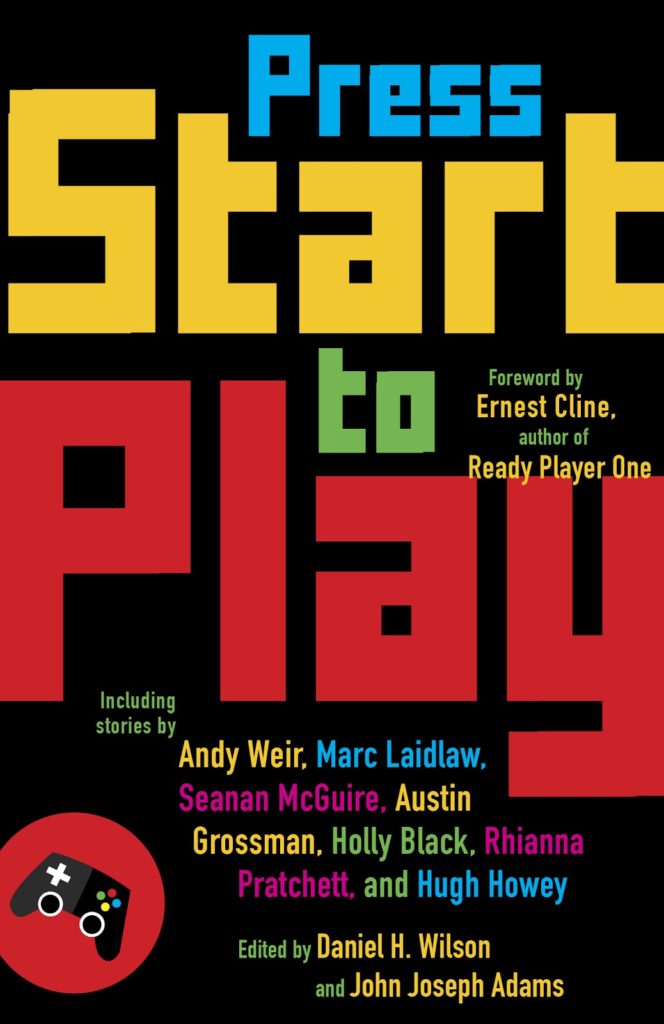 COVER COPY (not final):
Achievement unlocked! In the spirit of Ernest Cline's Ready Player One, here are twenty-six works of fiction that put video games—and the people who play them—in the spotlight. Whether these authors are tackling the humble pixelated coin-op arcade games of the 70s and 80s, or the vivid, immersive form of entertainment that abounds today, you'll never look at phrases like "save point," "first-person shooter," "dungeon crawl," "pwned," or "kill screen," in quite the same way again.
TABLE OF CONTENTS:
Foreword—Ernest Cline
author (Ready Player One)
Introduction—John Joseph Adams
editor (Wastelands)
God Mode—Daniel H. Wilson
author (Robopocalypse), video game writer/developer (Mayday! Deep Space)
NPC—Charles Yu
author (How to Live Safely in a Science Fictional Universe)
Respawn—Hiroshi Sakurazaka (translated by Nathan Collins)
author (All You Need is Kill, basis for the film Edge of Tomorrow a.k.a. Live/Die/Repeat)
Desert Walk—S.R. Mastrantone
author (short stories)
Rat Catcher's Yellows—Charlie Jane Anders
author (All the Birds in the Sky), editor (io9)
1Up—Holly Black
author (The Spiderwick Chronicles)
Survival Horror—Seanan McGuire
author (InCryptid, October Daye series)
REAL—Django Wexler
author (The Thousand Names)
Outliers—Nicole Feldringer
author (short stories)
<end game>—Chris Avellone
video game writer/developer (Fallout: New Vegas)
Save Me Plz—David Barr Kirtley (reprint)
author (short stories), host (The Geek's Guide to the Galaxy)
The Relive Box—T.C. Boyle (reprint)
author (World's End)
Roguelike—Marc Laidlaw
video game writer/developer (Half-Life), author (The 37th Mandala)
All of the People in Your Party Have Died—Robin Wasserman
author (The Waking Dark)
RECOIL!—Micky Neilson
video game writer/developer (World of Warcraft), comics writer (World of Warcraft: Ashbringer)
Anda's Game—Cory Doctorow (reprint)
author (Little Brother), editor (Boing Boing)
Coma Kings—Jessica Barber (reprint)
author (short stories)
Stats—Marguerite K. Bennett
comics writer (X-Men, Batman)
Please Continue—Chris Kluwe
author (Beautifully Unique Sparkleponies)
Creation Screen—Rhianna Pratchett
video game writer/developer (Tomb Raider), comics writer (Mirror's Edge)
The Fresh Prince of Gamma World—Austin Grossman
author (Soon I Will Be Invincible), video game writer/developer (Dishonored)
Gamer's End—Yoon Ha Lee
author (Conservation of Shadows)
The Clockwork Soldier—Ken Liu (reprint)
author (Grace of Kings)
Killswitch—Catherynne M. Valente (reprint)
author (Deathless)
Twarrior—Andy Weir
author (The Martian)
Select Character—Hugh Howey
author (Wool)
PRE-ORDER: