NEWS: LOOSED UPON THE WORLD is Now Available Wherever Fine Books Are Sold!
by
Loosed Upon the World is now available!
COVER COPY
This is the definitive collection of climate fiction from John Joseph Adams, the acclaimed editor of the Best American Science Fiction and Fantasy series and Wastelands. These provacative stories explore our present and speculate about all of our tomorrows through terrifying struggle and hope.
Join the bestselling authors Margaret Atwood, Paolo Bacigalupi, Nancy Kress, Kim Stanley Robinson, Jim Shepard, and twenty others as they presciently explore the greatest threat to our future.
This is a collection that will challenge readers to look at the world they live in as if for the first time.
COVER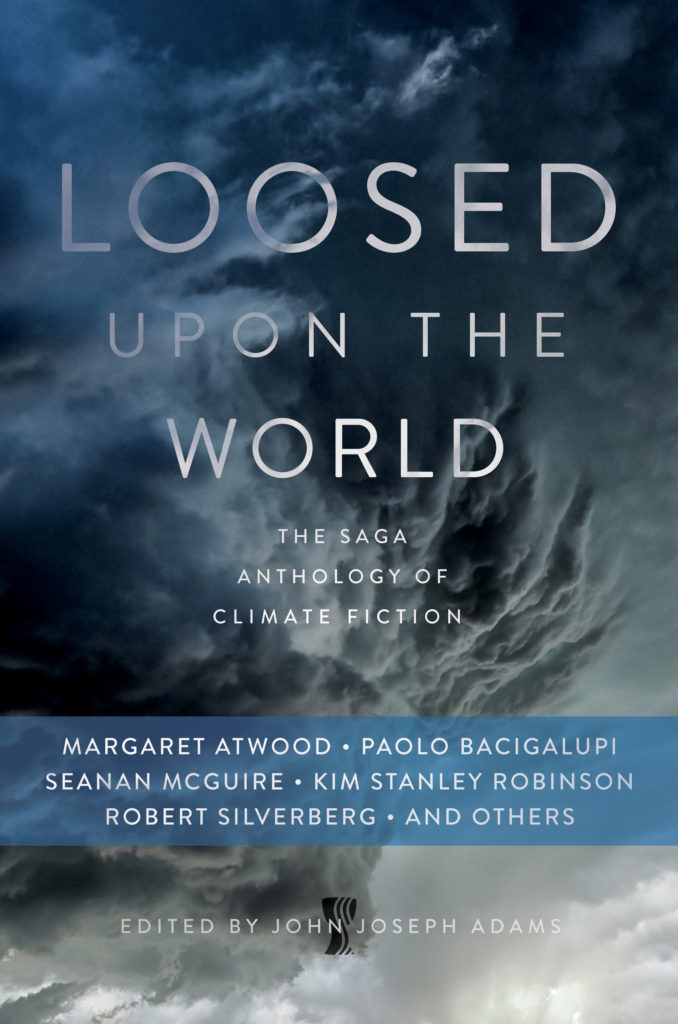 TABLE OF CONTENTS
FOREWORD—Paolo Bacigalupi
INTRODUCTION—John Joseph Adams
Shooting the Apocalypse—Paolo Bacigalupi
The Myth of Rain—Seanan McGuire
Outer Rims—Toiya Kristen Finley
Kheldyu—Karl Schroeder
The Snows of Yesteryear—Jean-Louis Trudel
A Hundred Hundred Daisies—Nancy Kress
The Rainy Season—Tobias S. Buckell
The Netherlands Lives With Water—Jim Shepard
The Precedent—Sean McMullen
Hot Sky—Robert Silverberg
That Creeping Sensation—Alan Dean Foster
Truth or Consequences—Kim Stanley Robinson
Entanglement—Vandana Singh
Staying Afloat—Angela Penrose
Eighth Wonder—Chris Bachelder
Eagle—Gregory Benford
Outliers—Nicole Feldringer
Quiet Town—Jason Gurley
The Day It All Ended—Charlie Jane Anders
The Smog Society—Chen Qiufan (translated by Ken Liu & Carmen

Yiling

Yan)
Racing the Tide—Craig DeLancey
Mutant Stag at Horn Creek—Sarah Castle
Hot Rods—Cat Sparks
The Tamarisk Hunter—Paolo Bacigalupi
Mitigation—Tobias Buckell & Karl Schroeder
Time Capsule Found on the Dead Planet—Margaret Atwood
AFTERWORD: Science Scarier Than Fiction—Ramez Naam
BUY THE BOOK
Hardcover
Trade Paperback
Ebook
If you'd like to learn more about the book, or read stories from the anthology for free online, visit the website for Loosed Upon the World at johnjosephadams.com/loosed.