NEWS: New Anthology of "The Monstrous and the Macabre," WHAT THE #@&% IS THAT? Announced (Saga, August 2016)
by
Over on io9, we just announced one of my 2016 anthologies: What the #@&% Is That: The Saga Anthology of the Monstrous and Macabre (which I co-edited with Douglas Cohen). It will be published Sept. 20, 2016 by Simon & Schuster's Saga Press imprint.
COVER (art by Mike Mignola)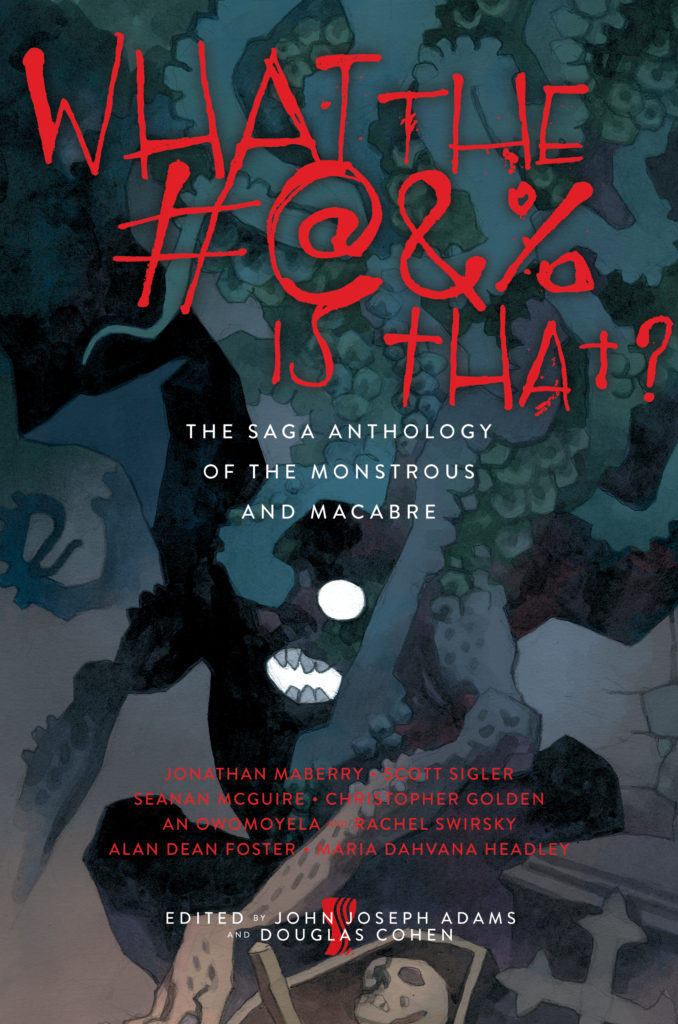 TABLE OF CONTENTS
Introduction by Douglas Cohen
Mobility by Laird Barron
Fossil Heart by Amanda Downum
Those Gaddam Cookies by Scott Sigler
The Sound of Her Laughter by Simon R. Green
Down in the Deep and the Dark by Desirina Boskovich
Only Unclench Your Hand by Isabel Yap
Little Widow by Maria Dahvana Headley
The Bad Hour by Christopher Golden
What is Lost, What is Given Away by John Langan
Now and Forever by D. Thomas Minton
#connollyhouse #weshouldntbehere by Seanan McGuire
The House That Love Built by Grady Hendrix
We All Make Sacrifices by Jonathan Maberry
Ghost Pressure by Gemma Files
The Daughter out of Darkness by Nancy Holder
Framing Mortensen by Adam-Troy Castro
The Catch by Terence Taylor
Hunters in the Wood by Tim Pratt
Whose Drowned Face Sleeps by An Owomoyela & Rachel Swirsky
Castleweep by Alan Dean Foster
COVER COPY
Fear of the unknown—it is the essence of the best horror stories, the need to know what monstrous vision you're beholding and the underlying terror that you just might find out. Now, twenty authors have gathered to ask—and maybe answer—a question worthy of almost any horror tale: "What the #@&% is that?" Join these masters of suspense as they take you to where the shadows grow long, and that which lurks at the corner of your vision is all too real.
BUY THE BOOK