NEWS: Carrie Vaughn's BANNERLESS and Hugh Howey's SAND are now available from John Joseph Adams Books
by
Today's a big day for John Joseph Adams Books: Today is the official publication date of two of our titles, including the first original (never-before-published) title I acquired for the imprint.
First up, we have Bannerless by Carrie Vaughn, the aforementioned first original acquisition for the imprint.
A mysterious murder in a dystopian future leads a novice investigator to question what she's learned about the foundation of her population-controlled society.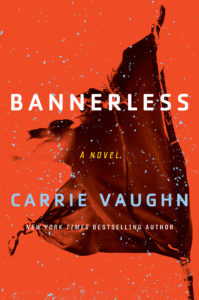 Decades after economic and environmental collapse destroys much of civilization in the United States, the Coast Road region isn't just surviving but thriving by some accounts, building something new on the ruins of what came before. A culture of population control has developed in which people, organized into households, must earn the children they bear by proving they can take care of them and are awarded symbolic banners to demonstrate this privilege. In the meantime, birth control is mandatory.
Enid of Haven is an Investigator, called on to mediate disputes and examine transgressions against the community. She's young for the job and hasn't yet handled a serious case. Now, though, a suspicious death requires her attention.
In a world defined by the disasters that happened a century before, the past is always present. But this investigation may reveal the cracks in Enid's world and make her question what she really stands for.
---
And then we have Sand by Hugh Howey, the fourth reissue of his (previously self-published) works that we've published now—having previously reissued Shift, Dust, and Beacon 23 last year when we did our "pre-launch" of the imprint. In October, we'll be publishing a collection of his short fiction, Machine Learning, which will be appearing for the first time anywhere.
SAND
Hugh Howey
No one will come for us. No one will save us. This is our life.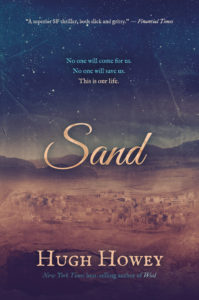 The old world is buried. A new one has been forged atop the shifting dunes. Here in this land of howling wind and infernal sand, four siblings find themselves scattered and lost. Their father was a sand diver, one of the elite few who could travel deep beneath the desert floor and bring up the relics and scraps that keep their people alive. But their father is gone. And the world he left behind might be next.
Welcome to the world of Sand, a novel by New York Times best-selling author Hugh Howey. Sand is an exploration of lawlessness, the tale of a land ignored. Here is a people left to fend for themselves. Adjust your ker and take a last, deep breath before you enter.