Launching on Patreon and Drip, or How to Become a Dragonrider or Space Wizard
by
I just launched a Patreon (patreon.com/JohnJosephAdams) and a Drip (d.rip/john-joseph-adams) as a way for readers and fans to support my editorial endeavors. Details below.
TL;DR Version
If you enjoy Lightspeed and Nightmare and my anthologies, this is a way for you to help support that endeavor by chipping in a buck or more on a recurring basis. Your support will help us bring bigger and better (and more) projects into the world.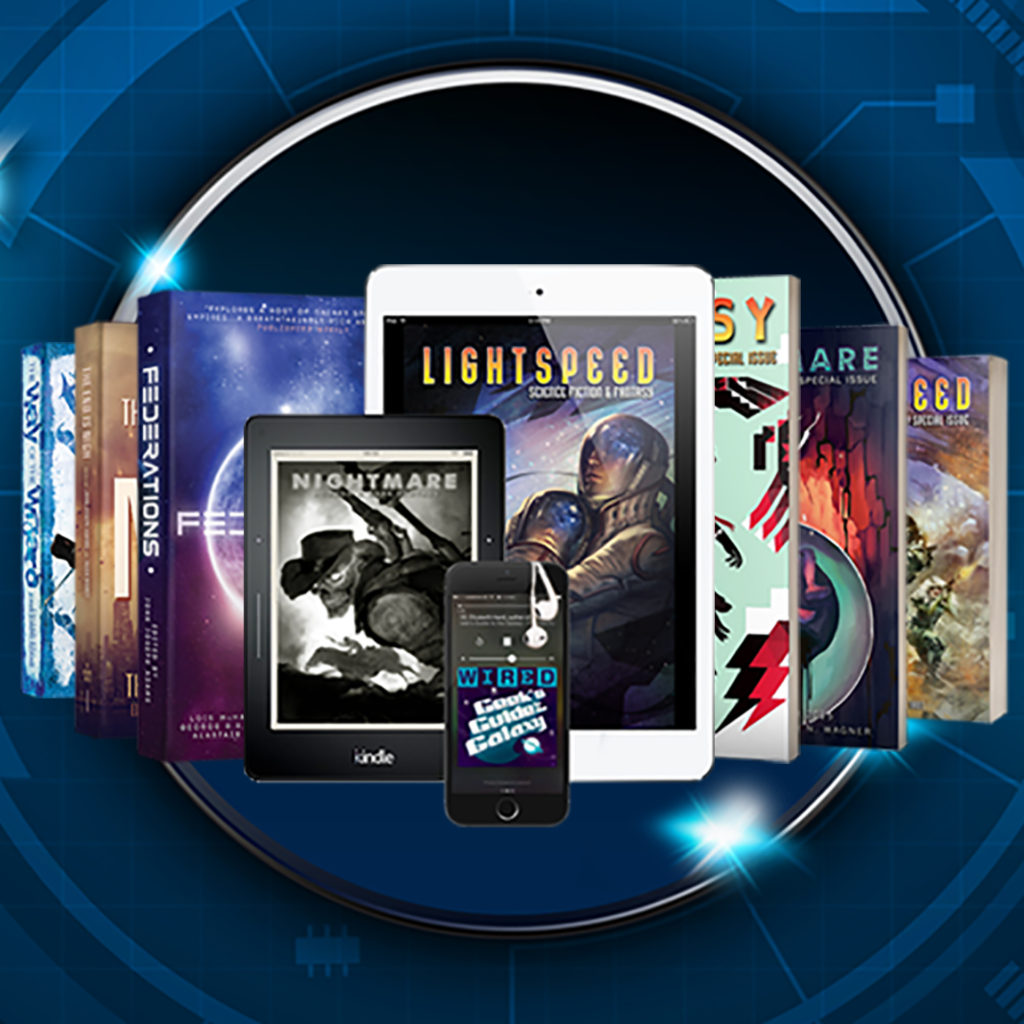 About Lightspeed and Nightmare
Lightspeed is a digital science fiction and fantasy magazine. In its pages, you will find science fiction: from near-future, sociological soft SF, to far-future, star-spanning hard SF—and fantasy: from epic fantasy, sword-and-sorcery, and contemporary urban tales, to magical realism, science-fantasy, and folktales.
Nightmare is a digital horror and dark fantasy magazine. In Nightmare'spages, you will find all kinds of horror fiction, from zombie stories and haunted house tales, to visceral psychological horror.
Each monthly issue of Lightspeed and Nightmare contains an assortment of fiction (9 stories in each issue of Lightspeed; 4 stories in each issue of Nightmare) and nonfiction; every issue is released first in ebook format, and then is serialized on the magazine's website throughout the month. Both magazines also offer a free story podcast the features selected stories from each issue. The ebook editions are available for sale (and subscription); the online version is free to all.
Lightspeed is a two-time winner of the Hugo Award, and stories published by Lightspeed have won the Hugo Award, and been finalists for the Nebula (16 times!), World Fantasy, Stoker, Sturgeon, and Shirley Jackson Awards.
Nightmare stories have won the Nebula, World Fantasy, and Shirley Jackson awards and have been a finalist for the Stoker Award.
Both have been edited by me since their inception (along with my dedicated team, of course). I'm also the sole publisher of both magazines as well.
About My Indie-Publishing Projects
In addition to editing and publishing Lightspeed and Nightmare, I also edit anthologies for various publishers, and edit my own science fiction and fantasy imprint for Houghton Mifflin Harcourt (John Joseph Adams Books).
But sometimes I also use indie (a/k/a self-publishing) tools to publish anthologies myself, such as HELP FUND MY ROBOT ARMY!!! and Other Improbable Crowdfunding Projects or the three books of The Apocalypse Triptych. Sometimes a project is just something I want to pursue independently, or in a couple of cases a traditional publisher published one of my books and then let it go out of print and the rights reverted to me, so I issued a new edition (as is the case with Federations, Seeds of Change, and The Way of the Wizard).
Why Patreon and Drip?
There are no big companies supporting or funding the magazines, so the magazines really rely on reader support. Though we offer the magazines online for free, we're able to fund them by selling ebook subscriptions or website advertising.
While we have a dedicated ebook subscriber base, the vast majority of our readers consume the magazine online for free. If just 10% of our website readers pledged just $1 a month, the magazines would be doing fantastically well. So we thought it might be useful to have an option like Drip and Patreon for readers who maybe haven't considered supporting the magazine, or who maybe haven't because they don't have any desire to receive the ebook editions—or who would be glad to pay $1 a month, but not $3 (the cost of a monthly subscriber issue of Lightspeed).
Though Lightspeed and Nightmare are separate entities, we decided to create a single "publisher" Drip and Patreon account because it seemed like it would be more efficient to manage just one page on each platform. Plus, since I sometimes independently publish works using indie-publishing tools (as described above), we thought it would be good to have a single place where folks could come to show their support for such projects.
But basically, we wanted to create a crowdfunding page where, if you enjoy my work as an editor, and you want to contribute a little something to help make it easier for us to produce more cool projects, then our Drip or Patreon will be the place to do that.
If you've read this far and are still not sure about pledging any money to the Patreon/Drip or subscribing or the like, but still want to offer some kind of support… please post a reader review on something you loved (especially on Amazon, where they're most useful). Posting a review of any project of mine would be appreciated, but if you want to support one or both of the magazines, it would be most useful to add a review to the Kindle subscription page. (If you'd like to do that, here's Lightspeed's and here's Nightmare's.)
What Do I Get Out of Being a Backer or Patron?
Well, you get the satisfaction of helping to usher the creation of cool new short fiction projects into the world! Plus, the more support we get, the better we can make the magazines and compensate our authors and staff. By becoming a supporter via Patreon or Drip, you help fund our growth and continued publication of two award-winning magazines. Of course, if you're already one of our ebook subscribers (thank you!), you are already supporting us. This is for those who prefer to read the issues each month on our free websites, or wish to support our efforts more generally.
If you want something in return for your backing (which is totally reasonable!), please instead choose one of our (non-Patreon) ebooksubscription options.
Thank You!
If you've read this far, thanks so much. We hope you'll consider becoming a backer on Patreon or Drip. Those URLs again are d.rip/john-joseph-adams and patreon.com/JohnJosephAdams.
Thanks in advance for your time. We look forward to hopefully being able to make the magazines—and my other publishing endeavors—even better with the support of people like you.